Slip and Fall Accident in an Apartment Common Area: What Should You Do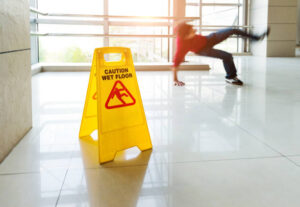 After a Slip and Fall Accident in an Apartment Common Area:
If you suffered injuries in a slip and fall that happened in an apartment common area, the landlord may be liable for your damages. While property owners can't enter the homes of their tenants whenever they wish, they are, however, legally responsible for ensuring that all common areas are free of any unsafe conditions. 
Depending on the situation, the maintenance contractor or property manager can also be responsible for your losses. But in order to receive compensation for your losses, you will need to prove who's at fault for the accident.
Important Steps to Take After a Slip and Fall Accident in an Apartment Common Area
Anything you say and do immediately after your slip and fall accident and in the coming days and weeks can majorly affect the outcome of your slip and fall case. For instance, if you left the scene, didn't get treatment for your injuries, or waited a couple of days to report the accident, the other party will most likely dispute your claim when you try to seek compensation from them.
However, if you received prompt medical treatment and reported the accident to the landlord, property manager, and/or owner, you will have a better chance of obtaining proper compensation. So following your slip and fall accident, make sure to do the following:
Obtain proper medical treatment for your injuries.
Report the accident
If possible, take photos and videos of the accident scene.
Get statements from witnesses, including their contact information.
Discuss your case with a California slip and fall accident lawyer.
Working with the right lawyer will help make sure that they will have the opportunity to obtain evidence that can help your case. Your lawyer will likewise handle all communications with the other party and their insurance provider.
What You Should Know About The Comparative Negligence Rule in California
Before filing your slip and fall injury claim or lawsuit, expect the other party to dispute your claim, especially if your claim is worth a lot of money. The other party will do all that they can to lay some of the blame on you for the slip and fall to reduce your compensation. They will most likely argue that:
You were not paying attention to your surroundings when you slipped and fell.
The accident occurred on a part of the apartment complex where people are not allowed.
The unsafe condition was properly blocked off by signage or cones.
The unsafe condition was obviously unsafe to any reasonable person.
Regardless of the particular argument the other party makes, California's comparative negligence rule will come into play when determining the compensation amount you can receive. This further highlights the need to work with a skilled slip and fall lawyer who can dispute the other party's arguments with facts and evidence to ensure that you get maximum compensation.
Reach Out to a Skilled Los Angeles Slip and Fall Accident Lawyer Today
If you sustained injuries in a slip and fall accident, contact Jahrmarkt & Associates to get started with your case. You can set up a free case review with our California slip and fall accident lawyer by sending us an online message or calling 310-226-7676.