Is Your Landlord Responsible for Common Outdoor Areas?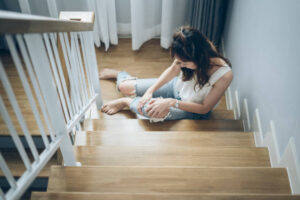 Is Your Landlord Responsible? One of the advantages of renting a property over buying or owning one is that the property owner is responsible for the ongoing maintenance of your home or office. If there are outdoor areas that are used by multiple units, such as a garden, a backyard, a swimming pool, or simply a stairwell or walkway, it is the landlord's responsibility to keep those areas in good repair and free of debris or obstacles.
If the property is not maintained well and you slip, trip and fall, your landlord may be liable for damages.
What are the Possible Dangers?
It may be obvious that a landlord has a duty to put a fence with a locked gate around a pool, but it might be less obvious that the landlord also has a duty to take care of the following:
• Cracked pavement
• Inadequate lighting
• Missing handrails
• Inadequate maintenance of stairs, curbs, and walkways
The landlord is also obligated to clean up hazardous spills, clean up debris after a storm and keep public areas free of trip hazards.
What Happens If I Fall?
In the event that a landlord fails to maintain the property and you fall as a result, you might have grounds to file a personal injury claim. A personal injury claim will have teeth only if it meets the conditions for negligence. These conditions are:
• The landlord had a duty to maintain the property
• That duty was breached
• The breach of duty directly caused your fall accident
• The accident resulted in injury
If you can prove these four conditions, you may be able to sue your landlord for negligence.
How Do I File Premises Liability Lawsuit?
If you slip or trip and fall as a result of disrepair in or around your home, you will need to build a case against your landlord. Under no conditions should you accept an offer of cash directly from the landlord or management company before speaking to a premises liability attorney?
Instead, start collecting information about your accident, such as where did you fall, why did you fall, and what time of the day was it? Take lots of pictures of the place you fell from several angles. Next, seek medical attention and be sure to explain that you were injured during a fall.
Request copies of your medical records before you leave the hospital or urgent care clinic. Keep copies of any bills you pay that are related to your fall, including medical equipment, physical therapy, and household help. If you are unable to work and have used all of your paid sick days, ask your boss to provide a statement to that effect.
Is Your Landlord Responsible? Call a Los Angeles Personal Injury Attorney
Finally, don't do this alone! Is Your Landlord Responsible? The personal injury attorneys at Jahrmarkt & Associates have 20 years of experience filing and winning premises liability claims like yours. We want to get you the maximum amount of money allowed because we believe you deserve to be compensated for your medical expenses, lost wages, and your pain and suffering. Contact us today for your free consultation.